The Hip Hook - Limited Quantity Available
---
The Hip Hook - Limited Quantity Available
Get fast, long-lasting pain relief for the same price as one physical therapy appointment.
The Hip Hook eliminates tightness in the hip flexors and quickly reduces pain and strain in the legs, hips, and lower back. Say goodbye to pain caused by hours of desk-sitting, traveling, or working from your couch (yes, we see you). The Hip Hook is the world's first and only tool designed to specifically release tension in both the psoas AND iliacus muscles and address the root cause of the problem.
Added Benefits:
There's a

 

60-day money-back guarantee

 

on the Hip Hook!
FREE shipping

 

in the continental USA!
Guided

 

instructional videos

 

on our website & YouTube channel!
We have a

 

5-star customer service team

 

to help you with any questions!
Sourced and assembled with high-quality materials in the USA.
Shipping Update:
All of our delivery carriers are likely to experience shipping delays due to COVID-19 and other potential factors. We will fulfill your order within 1-2 business days, but cannot guarantee delivery dates. However, we'll always keep you informed and updated about your order and tracking information, and are here to help in any way we can (because we don't like uncertainty, either).
International customers: We don't collect VAT for purchases to our international customers, so you will have to pay it when you collect the product from the shipping company or post office.
------------------------------------------------------------
Note: Your credit card will be charged at the time of purchase, and you will get an email when your order is shipped.
Patented (Hip Hook)
Customer Reviews
Write a Review
Ask a Question
Filter Reviews:
pain
ball
book
three
doctors
hip replacement
experience
pelvis
muscles
hip flexors
09/11/2020
Your product made a Navy Chief cry like a baby with gratitude and joy.
My name is Tony Woody and I served for 22 years in the US Navy. I was a flight engineer on the P3 Orion aircraft for over 20 years and logged over 10K flight hours during my military flying career. That's a lot of sitting causing stress on the core muscles and body while wearing a 35lbs life preserver apparatus at all times. The extensive missions and training required to keep that job for that long caused a lot of spinal damage and muscular damage long before the car wreck. After the wreck all of my core muscles went into simultaneous global non-stop muscle dystonia for three years. I could barely walk, could not stand up straight and lost a lot of muscle mass because I couldn't exercise properly. To be open and honest I found some other help last December when I started taking a Chinese Medicine formula that finally started healing my muscle dystonia and my muscles began to relax little by little each day. But, even still; my legs, knees, shins and feet never stopped hurting, and my neck and shoulders and back were still under tension and stress, just not as extreme as it was before the Chinese Medicine. Also even with that medicine slowly working I had not stood up straight and tall for over three years, until a few weeks ago when I got my Hip Hook in the mail. I am 63 years old and rated by VA as 100% permanently and totally disabled since 2004. I have lived with severe chronic pain throughout my body for decades due to my numerous service connected injuries. On top of that, severe global muscle dystonia manifested and set in throughout my body after being in a bad car wreck three years ago. Pile that up on top of my military injuries and we're talking real pain here. I am determined to manage my pain without taking opioids or any other medicines. I prefer a totally holistic approach to all of my pain management modalities because I went down that pain pill route years ago and refuse to do that again. That is part of what attracted me to the Hip Hook in the first place as an alternative to taking pills again. While waiting for my Hip Hook to arrive in the mail I watched the "How to" video several times and already knew what to do. So when it arrived in the mail I couldn't wait to try it. I ripped the box open as fast as I could and immediately dropped to the floor and went to work with my new Hip Hook. At first it hurt like ****. But I expected that, so I was mentally ready to push through the initial pain and let the HH melt into my body a tiny bit at a time until I could work the handle around in just the right spot to palpate deeper and more accurately. The ability to have pinpoint accuracy to work those muscles whenever I need to is absolutely invaluable to me. The only time I ever got any short term relief was after massage therapy digging deep into my core muscles. That is something I cannot do on my own until now with my new Hip Hook. After I worked both sides and spent about 15 to 20 minutes on the floor doing that, I stretched out a bit while still lying on the floor and then stood up. In that moment I suddenly realized, for the first time in over three years; that my feet, legs, knees, back, shoulders and neck had all fully extended SMOOTHLY and in concert with one another. When that happened I got so excited I tried to call your company number to tell you about it, but it was after hours so I had to leave a voice message. I got so emotional on the phone all I could do was say how deeply grateful I am and I started crying and had to hang up. I simply could not talk anymore because my Heart was filled up and overflowing with gratitude so deep it overwhelmed me emotionally and I was dumbfounded by it. When I stood up the first time after using my Hip Hook it was like a symphony of fluid motion reminiscent of my younger stronger days. It was so easy to stand up straight it literally shocked me. I expected to have pain while using my Hip Hook. I was not ready for the emotional reaction at all. I was definitely NOT expecting the organic emotional spontaneous reaction that poured out of my Heart when I realized fully what just happened. I never saw that coming and I cried like a baby. Navy Chief's don't usually cry like babies by the way, so congratulations Christine for doing that. Let me explain. After I called your company I was home alone and just sat in my chair for the next 15 or 20 minutes crying like a baby out of genuine joy and gratitude, because I now knew I had a way to manage all the core reasons for most of my CHRONIC SEVERE pain and I will never be tortured again. Also just as importantly I knew I could use my Hip Hook whenever I wished now which brought me a profound sense of freedom and joy from fear of severe pain I cannot put into words. I'm sorry if my voice mail sounded a bit odd, but I wanted you to know you made a Navy Chief cry like a baby with your awesome product. I thank God I found the Hip Hook. I use it twice a day and always before bed and I now sleep a lot be
Tony W.

United States
09/19/2020
So far so good!
I have noticed a release in some chronic lower back pain and hip pain after using it. I've only used it twice and stuff is reat tight, so its painful, but i can feel some relief and can't wait to see more results. The first time I used it I got a reactionary pain/tight muscle in my upper back that I had to work out but it's fine now.
Jamie L.

United States
09/02/2020
Life Changing and Empowering
After a long journey with my back going out several times per year and living in constant pain, I have discovered the "secrets" to finally getting it to stop, for good! I practice the MELT Method which is amazing, however, I still felt stiffness and had difficulty with flexion. This was the final piece to my puzzle to regaining full, normal pain free movement! It makes so much sense and it works so quickly. As a yogi, who spent lots of time strengthening my hip flexors, Christine Koths book really laid out exactly what my issue was and what has been contributing to my pain. I finally got that answer I've been seeking for so many years, what is causing my back to keep going out and to hurt so much? Not only did I get the answer, I can release my tight psoas and iliacus all by myself in the comfort of my home. What a life changing moment this has been for me!
Michelle K.

United States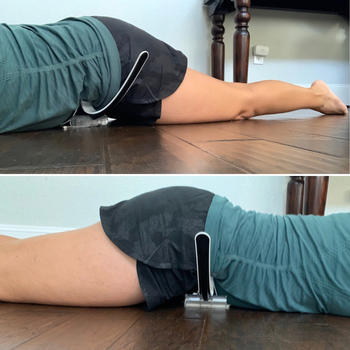 08/31/2020
Life Changing
Relief from years of continuous, chronic pain in my hips, quad, back, neck, & jaw. I have improved posture & more mobility in my neck. With the hip hook I can do this as needed without visits to a practitioner.
Megan M.

United States
12/02/2020
Hip hook
In 1994 I was in a MVA and had a psoas evulsion fracture of my spine at T12 L1 that left me with traumatic scoliosis and chronic pain. Fortunately, I am a physical therapist and knew what exercises and massage to do. The hip hook allows me to access and release psoas tightness! I do want to caution users to be gentle and slow in using this tool. Gains can be made without triggering inflammation and rebound protection when application is "soft" and NOT aggressive.
Nancy M.

United States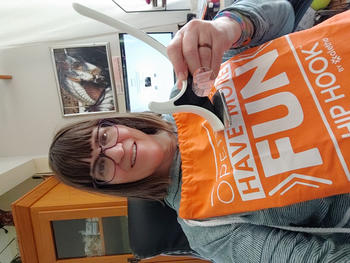 05/13/2021
HipHook is Helping
I have had piriformis/psoas tightness, cramping and nerve numbness all down my left leg for 4 years. I have tried the nerve pain medication, an injection in my spine, but what has really helped is weekly chiropractic visits and I used to get neuromuscular massage before C19 lockdowns, and she would work on my Iliacus. Man oh man, those sessions hurt, but later I could walk and move without pain. I hesitated getting this HipHook because it looks like a piece of plastic that I could make with a 3D printer and the price....but then I got it. I am happy to say that it does help. I do 90 seconds per spot and I do about 3 on each side. So far, that is what I have been doing.
Lisa E.

United States
12/17/2020
Hip Hook? More like a magic wand!
I have spent the last 10 years trying to find relief for my hip, pelvis, knee and ankle pain. Three times in 10 years I've found relief through physical therapy, only to find myself starting to suffer the same symptoms within months of ending treatment, despite faithfully keeping up with the exercises after being released from treatment. After one week of using the Hip Hook, I feel better than I ever did after completing physical therapy. I am still in disbelief that I can wake up in the morning, hop out of bed, and not wince in pain. Almost more important than the physical relief is the mental relief. No more anxiety when things get hectic at work. My focus has improved. I feel physically and mentally stronger. After reading Tight Hip, Twisted Core, I now understand the connection. If you're taking the time to read reviews on this product and still wondering if you need it, trust me, you do!! I was you just a short while ago, desperate for answers and relief, thinking this was probably a gimmick. I'm glad I took a chance and placed the order. Thank you Christine Koth! ❤️
Penny W.

United States
11/27/2020
I love it.
I've been dealing with hip problems for years. This product started appearing in my targeted ads months ago, but it wasn't until I told my PT that I felt like I had an abdominal muscle pulling me downward and he released my iliacus that I started looking at it seriously. I purchased it and it arrived on a day when I was having lots of pain from my iliacus and SI. The relief that I got IMMEDIATELY after finding the right spot was incredible. My SI pain went away, I didn't have any iliopsoas popping that night, and I pretty much had a great two days after that. My skin was a little sore after the first use, so I gave it a bit until I used it again, and I got the same result after using it the second time- immediate relief. I've since been able to use it once a day, every day, and I am having much less pain overall, my hip flexor is not nearly as tight, and I'm waking up with my pelvis more balanced and in need of less work in the mornings before I can get going. I have not been able to get it going on my "good" side, but I'm sure I will figure it out eventually. For people who are overweight too, take it from me- you can use this.
Michelle P.

United States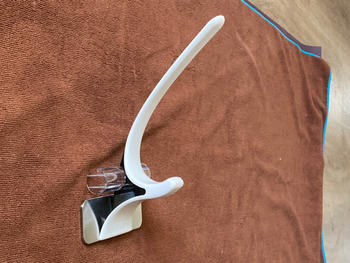 09/20/2020
Grateful
I'm grateful to have this product. It helps my SI joint dysfunction immensely, where injections weren't completely effective and never lasted long enough. When I don't use it for a few days, my body definitely reminds me that I need it. I have significantly less pain when I use the Hip Hook consistently.
Kathleen D.

United States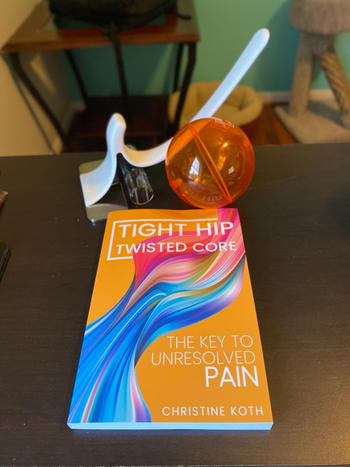 06/11/2021
I recommend this product
You can call me a ****** if you want…
…and I won't care one bit! This tool is amazing, and I'll use it for the rest of my life. I'm convinced it is durable enough to last that long already too. I've had my hip hook for about 6 weeks. For the year previous I went on a journey of losing 85 lbs, running a marathon, etc etc. Although what I did was great, I did some damage! Driving started to cause excruciating pain in my glute/deep 6 area. Other pains started to surface too. Basically I started bouncing pain from joint to joint, muscle to muscle. After 6 weeks of using the hip hook and stretching for 15 mins a night—I just drove from Dallas to Houston PAIN FREE. Progress was noticeable in the first week also. Thank you, Christine!!!
Justin D.

United States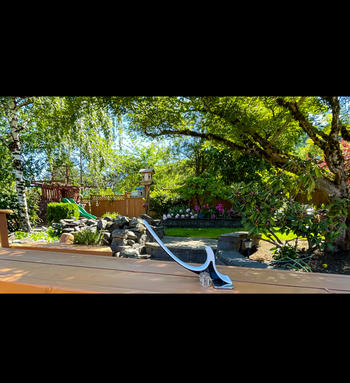 06/03/2021
I recommend this product
Sweet relief
My hips and low back have been tight and painful for years. From wearing a duty belt to a ballistic vest and tac boots the weight of walking, running, getting in and out of vehicles, and physical altercations have left my core and lower body tight and sore no matter how much I stretched or worked out. My hamstrings and calves followed suit so I looked like an old man when I stand up from sitting. A myriad of on the job injuries only exacerbated my issues. The Hip Hook and book have opened up my mind and hips at the same time. Finally someone addressed the root cause afflicting so many. I'm not saying it's a miracle but it's close. I am moving more freely, my gait is less tortured, I'm not making as many dad noises siting and standing. And I've only been using it a short time. Thanks, Christine. Although I'm curious how many Chiros, PT's, and LMT's are mad at you for 'taking' their patients.
Rairden G.

United States
05/04/2021
From creaky hips, pinchy glutes and painful hip flexors to pain free!
After PT and 2 months of exercises, and years of waking up with hip and lower back pain, this book and provided great information and clues to relieving my daily on and off pains. First using the ball for a week, and then the Hip Hook to release my Iliacus muscle, followed by releasing the trigger points in my pelvis, my hips quickly felt "freed up." The mobility I have is great! I can't stop sharing the book and talking about the Hip Hook. I have always been active but felt like at 60 I was just getting old- especially getting out of chairs - painful hip flexors and then trouble with knee pain and IT band pain. It was not diagnosed as sciatica, no MRI abnormalities, so I was stuck. I have been using this device, followed by trigger point releases all over my hips and lower back, in the beginning spending an hour or more at it, for 5 weeks now. I use it 3 times a week now plus trigger point release. If you are in tune with your body, and notice problems, use this first, before you end up with surgery, cortisone shots, or just are unable to walk or run like I was.
Cynthia O.

United States
10/20/2020
Helpful but hard to use
I do feel looser and have less pain, but even though I'm usually good at figuring out physical things I cannot seem to do it right. It seems more effective at loosening my psoas, I basically gave up on my iliacus. Maybe a more effective video would help, the skinny professional trainer lady effortlessly lying in exactly the right spot the first time is not realistic. Show us where NOT to put it as well as where to put it. In the end, I've moved on to using it as an effective leveraging/pressure tool for my psoas which is constantly a bit tight due to some nerve damage on my left side. It does help for that. It's actually also pretty good at getting that area under my shoulder blade that's impossible to reach, too!
Nicole F.

United States
Hi Nicole, That's great to hear that you are finding the Hip Hook helpful in releasing your psoas muscle. For the iliacus, perhaps you haven't found a spot yet that is super tight. Keep exploring! We encourage you to check out more of the videos on the Aletha YouTube channel (www.youtube.com/alethahealth). There is a lot of range along the ilium that you can explore to get at the iliacus muscle. Getting closer to the ilium and even playing around with how you can angle the tip of the Hip Hook along the contour of the iliac crest may make the difference that helps you get into the iliacus muscle more effectively. Please reach out to us at hello@alethasupport.com if you have any more questions. We'd love to help! Live with Ease, Team Aletha
09/09/2020
I finally found relief!
My job has me sitting all day and I enjoy PC gaming which adds more hours to my sitting. I've tried many different tools, professional massage, chiropractor, stretching...you name it. This is the only tool that has worked to give me total relief! Thank you from the bottom of my heart! God Bless you!
Carmen D.

United States
10/21/2021
I recommend this product
It's not as good as it looks on Instagram
I've only used it for a week or so but I'm fairly disappointed. It's not much better than laying on a lacrosse ball or some other hard object. When I depress the handle, it kind of bends but I don't get any different kind of relief. The folks that advertise it really hype it up like it's fixing their problems but I didn't experience that. Not saying it didn't work at all but for the price, I thought it would work better. Maybe I really don't have tight hips like I thought I did. It could be possible that I just have arthritis in my hip joint?
Kurt

United States
Hi Kurt! Thank you for taking the time to leave a review and share your experience with us so far. We understand you are disappointed and maybe having difficulty using the Hip Hook and experiencing results so far. Our team would love to help you! We offer free, one-on-one Zoom calls for our customers with our clinical product specialist to make sure you are using the tool correctly and getting the most out of it! If you're interested in this, please email our team at hello@alethasupport.com and we would be happy to set that up for you. We hope this helps! Team Aletha
03/07/2021
It's For The Kids
As a high school football and track coach, I noticed more athletes were getting hip flexor injuries. The prevailing thought amongst local coaches was that the athletes need more rest and less strenuous workouts. I started using the Hip Hook methodology and suddenly there were no more hip flexor injuries. I did not have to let up on the athletes, but just treat the origin of the problem.
tom I.

United States
Hi Tom! Thank you so much for taking the time to leave a review and share with us how much the Hip Hook has been helping your athletes! We can't wait to see the continued success you have with your team now that they have been able to #FreetheHip! :)
09/21/2020
SI joint releif
I have begun to use the hip hook to resolve issues with SI joint and hip pain. This is a 12 year old injury, and when I released the right and left Iliapsoas areas, I immediately felt less pain in the hips and more mobility. There is more healing to do, but this hip hook has started that process. I am one person who had a diagnosis of a leg length difference that never made much sense to me, so after no improvement for the past decade using a lift, I quit it, creating a cascade of changes. This Hip Hook seems to be helping that process move orward.
Sarah L.

United States
01/21/2021
Years of chronic pain
I have had years of pain following multiple hamstring tears with the worst culprit being a tear from the insertion point at the Ischial Tuberosity. This was never addressed properly despite years of physical therapy and intense self work from myself into management and healing. Last year the chronic injury and hip dysfunction reached its maximal havoc, as the misalignment caused me to break my 9th, 10th and 11th ribs on my right side while I was articulating through my spine in cat cow. A new PT finally started targeting the front of the hips and releasing the psoas and illiacus. Many tears later as the spot was so sensitive and at first it could almost barely handle light touch, the pain subsided and I felt my first relief in almost 8 years. Unfortunately, covid Hit and I was uncomfortable going for more in person treatments, however I knew where I needed to turn my attention. I started playing with different tools around the house and even taught my husband how to release the psoas and illiacus but was not a long term plan for us. Enter hip hook to my life! My hip hook has been INSTRUMENTAL in not only managing my pain but also allowing me to reach a level in my body that I have not felt in my adult life. This has become an integral part of my body management routine and I couldn't be happier. Thank you!!!!!
Justine F.

United States
12/13/2020
5 years of back pain
I've suffered from lower back pain for 5+ years. I practice Yoga, am a Blue Belt in Karate, an avid downhill Double Black Diamond skier, and a recreational cyclist. I've tried acupuncture, electric stim, massage therapy, muscle relaxants, and heat but nothing resolved the issue, until I found the HIP HOOK! Hip, hip hooray!
Shlomo K.

United States
11/14/2021
I recommend this product
Hook up with Hip Hook
This ingenious device has released these (hard to get to) hidden muscles (psoas and iliacus) that have in turned released other muscle groups up into my upper back and neck and in turn has helped released muscles into my calfs and feet.
John L.

United States