The Hip Flexor Release Ball
---
Start Strong Sale!
50 off storewide on purchases of $200 or more, use code STRONG50

FREE SHIPPING in the US on purchases over $40
Add additional products to your cart to get this deal!
Limited time only! This special offer is to help you start 2022 STRONG! (Relaxed Muscles don't Hurt - Start Strong & Stay Strong)
This ball is the perfect size (4 inches) and density to provide effective release of the general area around the iliacus and psoas muscles. A perfect warm-up for the Hip Hook. Solve mysterious pain in your lower back, hips, tailbone, knees, and feet, by softening the tension in your psoas muscle with prolonged and gentle pressure.
REDUCE PAIN. Relieve aches and pain and reduce inflammation and strain on soft tissue and release trigger points.
INCREASE MOBILITY and improve range of motion in your lower back, hips, feet, and knees.
EASY TO USE - Simply lean or lay on the ball and use your own body weight and gravity to relieve tension.
FASTER RECOVERY: Increase circulation to tight areas by using the ball for 2 minutes a day.
TRAVEL READY: 4 inches and 1 oz. The ball is perfect for the gym, hotel, home, or office. Get fast and effective myofascial release in your lower back, hips, knees, ankles, tailbone, and feet.
Shipping Update:
All of our delivery carriers are likely to experience shipping delays due to COVID-19 or other potential factors. We will fulfill your order within 1-2 business days, but cannot guarantee delivery dates. However, we'll always keep you informed and updated about your order and tracking information, and are here to help in any way we can (because we don't like uncertainty, either).
International customers, please note: We don't collect VAT for purchases to our international customers, so you will have to pay it when you collect the product from the shipping company or post office.
Customer Reviews
Write a Review
Ask a Question
Filter Reviews:
ball
pain
Hip Hook
tension
Christine
hips
body
back pain
Massage Therapist
hip flexors
09/19/2020
I use this everyday!
It's helped me with my lower back pain so much.
Kevin C.

United States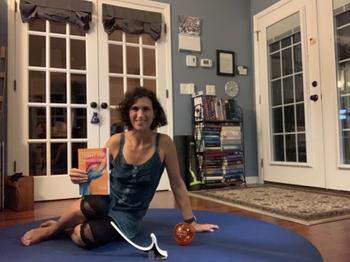 09/04/2020
Magical
It works so quickly! As soon a I finish I have a nice lifted low back curve, my thighs touch the floor and I no longer feel weighted on my sacrum. It immediately puts me into ideal alignment. I have a more fluid range of motion when bending forward as well. I'm really amazed by how effective it is and how different I feel afterward. I feel like a whole bunch of tension just left my body that I never even knew I had. This is incredible!
Michelle K.

United States
11/14/2021
I recommend this product
Love this "tool"
This little ball enables me to "hit" evey knot in my body from my neck to my lower buttocks! It is as good as having a massage therapist at your disposal ANYTIME of day! I now incorprate stretching into my routine when I use this ball which is 3-4 times a week.
Cheryl W.

United States
08/12/2021
I recommend this product
Gentle Pressure
I had a c-section and a hysterectomy many years ago and then on top of that a hip injury. I have suffered with low back pain, groin pain, and hip pain for many years. I have been through physical therapy, massage therapy, and chiropractic adjustments, but never got long lasting relief. The Hip Flexor Release Ball helped me gradually introduce pressure into the iliacus and psoas so I could then use the Hip Hook tool. I feel much better now and I can tell my hips are gradually realigning.
Rochelle A.

United States
05/19/2021
I recommend this product
Hits the Spot(s)
Certainly helps to reach the iliacpsoas without resorting to a trained massage therapist digging into your lower intestines. So far, I've actually had a bit more luck with the ball than the Hip Hook, but I anticipate that the Hook will help focus on very specific adhesions.
Michael K.

United States
09/23/2020
IT'S PERFECT!
Perfect size and perfectly firm. Great to use in the derrière area as well as putting it on the wall for "massaging" the scapula area. THANKS, ALETHA!
Kathy H.

United States
Hi Kathy, Thanks so much for the review! We are so happy to hear that you are loving your Hip Flexor Release Ball and discovering some other good spots to use it. Live with Ease, Team Aletha
09/21/2020
Hip replacement
I am 75 yrs. old and will have hip replacement surgery near the end of the tear. When. I use this ball to relieve tightness and pain in the groin area from the arthritic hip it allows me to play golf or walk or bike.
Robert C.

United States
09/19/2020
I love this little guy!
This little guy hits spots that the foam roller can't get. The pressure and massage like effect I get from using the ball greatly reduces the tension and pain from my lower back through my gluteal muscles.
Kyle W.

United States
09/08/2020
Solved 10 years of chronic back pain
I have suffered for over 10 years with chronic lower back, glutes, and upper back pain. Additionally, I have suffered for 5 years from a cramp in my hip - following bi-latteral hip replacement - anytime I try to walk more that a block or two. First I read Christine's Book - Tight hip, Twisted Core, then bought the Hip Flexor Ball. In the beginning, my glutes, hips, and back were so tight, it took me over an hours to hit all the trigger points with the ball. I am now two months into the use of the ball, and virtually ALL my pain is gone. I now have to search to find any trigger points as I maintain my daily procedure for releasing the tight muscles. I am now walking 30 minutes daily, which is something I have not been able to do since my hip replacement. Used to be I could only stand for 15 minutes before needing to sit to relieve my back. That's gone now! This has give me a new life.
Jeff P.

United States
12/18/2021
I recommend this product
This is SO much better than other methods!
I use this ball to release both my hip flexors and piriformis muscle. I've tried tennis balls and those PT balls with rubber spikes on them, and something about the shape, size, and flex of the Aletha ball makes it SO much better! This really gets into the piriformis and helps release it better than anything else I've tried, and it is easy to use on the hip flexor / psoas area as well. I highly recommend this product.
Elizabeth H.

United States
12/08/2021
I recommend this product
Hip Flexor release ball
It's helped a lot. I was having lower back hip pain and this has made a big difference.
ezra S.

United States
12/06/2021
Pain-free running again!
I use the hip flexor release ball before every run and it has been able to get into my hip flexors like nothing else that I have ever used before and I have tried just about any ball or roller on the market.
Susanne V.

United States
11/04/2021
I recommend this product
Piriformis relief
This ball is large enough to reach and massage the piriformis and isn't hard enough to be excruciatingly painful. I'm able to relieve pain that I previously had to endure.
Sierra A.

United States
10/20/2021
I recommend this product
Great tool
The ball is a great way to release trigger points in my glutes & hip flexors.
Denise T.

United States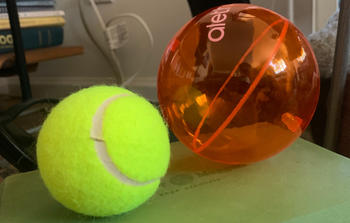 10/04/2021
I recommend this product
So helpful and more effective then a tennis ball...
...get one now! Don't overthink it, just get one! You will not regret it!
Renee S.

United States
07/16/2021
I recommend this product
Amazing
Amazing fantastic release in the pelvic and glute areas
Marie M.

United Kingdom
03/26/2021
Do it All
Released tension in my back an flattened my stomach.
Victor M.

United States
02/11/2021
Ball of Joy
I purchased the hip flexor release ball when I purchased Christine's book, Tight Hip Twisted Core. The ball has been very beneficial in myofascial release.
Abby L.

United States
09/21/2020
Nothing like it!
there is nothing on the market that does was the hip hook does and Christine has done a fabulous job making it simple to use and providing the right direction maximizing it's impact.
Taylor W.

United States