Move More, Hurt Less! Buy the #FixYourHipKit - $60 Off!
---
The Complete #
FixYourHipKit
for $60 off plus FREE ground shipping in the US!
These 3 simple steps can provide long-term pain relief to the lower back, hips, tailbone, knees, and feet.
The Complete #FixYourHipKit includes:
Tight Hip Twisted Core - The Key to Unresolved Pain book: the bestselling guide to using the Hip Hook and Hip Flexor Release Ball, written by the inventor of the Hip Hook.
The Hip Flexor Release Ball: broad pressure for releasing the general area around the iliacus and psoas muscles, the back of the hip, glutes, piriformis, hamstrings and low back muscles. 
The Hip Hook: the world's first tool designed to specifically release tension in both the psoas and iliacus muscles. The Hip Hook eliminates tightness at the core of the hip flexor and quickly reduces strain in the legs, hips, and lower back. 
We know you'll love it. But just in case, there's a 30-day money-back guarantee on the Hip Hook that starts after you've received the product.
Patent Pending 
Note: Your credit card will be charged at time of purchase and your Hip Hook will ship within 1-2 weeks.
International customers: We don't collect VAT for purchases to our international customers, so you will have to pay it when you collect the product from the shipping company or post office.
Customer Reviews
Write a Review
Ask a Question
Filter Reviews:
pain
Hip Hook
Relief
back
knee
three
iliacus
back pain
body
tightness
09/02/2020
Life Changing and Empowering
After a long journey with my back going out several times per year and living in constant pain, I have discovered the "secrets" to finally getting it to stop, for good! I practice the MELT Method which is amazing, however, I still felt stiffness and had difficulty with flexion. This was the final piece to my puzzle to regaining full, normal pain free movement! It makes so much sense and it works so quickly. As a yogi, who spent lots of time strengthening my hip flexors, Christine Koths book really laid out exactly what my issue was and what has been contributing to my pain. I finally got that answer I've been seeking for so many years, what is causing my back to keep going out and to hurt so much? Not only did I get the answer, I can release my tight psoas and iliacus all by myself in the comfort of my home. What a life changing moment this has been for me!
Michelle K.

United States
09/19/2020
So far so good!
I have noticed a release in some chronic lower back pain and hip pain after using it. I've only used it twice and stuff is reat tight, so its painful, but i can feel some relief and can't wait to see more results. The first time I used it I got a reactionary pain/tight muscle in my upper back that I had to work out but it's fine now.
Jamie L.

United States
12/02/2020
Hip hook
In 1994 I was in a MVA and had a psoas evulsion fracture of my spine at T12 L1 that left me with traumatic scoliosis and chronic pain. Fortunately, I am a physical therapist and knew what exercises and massage to do. The hip hook allows me to access and release psoas tightness! I do want to caution users to be gentle and slow in using this tool. Gains can be made without triggering inflammation and rebound protection when application is "soft" and NOT aggressive.
Nancy M.

United States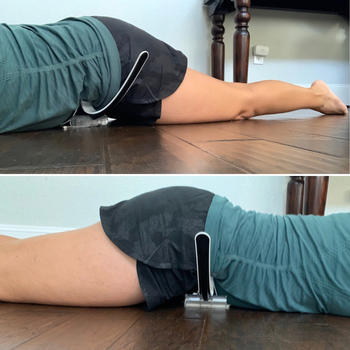 08/31/2020
Life Changing
Relief from years of continuous, chronic pain in my hips, quad, back, neck, & jaw. I have improved posture & more mobility in my neck. With the hip hook I can do this as needed without visits to a practitioner.
Megan M.

United States
12/17/2020
Hip Hook? More like a magic wand!
I have spent the last 10 years trying to find relief for my hip, pelvis, knee and ankle pain. Three times in 10 years I've found relief through physical therapy, only to find myself starting to suffer the same symptoms within months of ending treatment, despite faithfully keeping up with the exercises after being released from treatment. After one week of using the Hip Hook, I feel better than I ever did after completing physical therapy. I am still in disbelief that I can wake up in the morning, hop out of bed, and not wince in pain. Almost more important than the physical relief is the mental relief. No more anxiety when things get hectic at work. My focus has improved. I feel physically and mentally stronger. After reading Tight Hip, Twisted Core, I now understand the connection. If you're taking the time to read reviews on this product and still wondering if you need it, trust me, you do!! I was you just a short while ago, desperate for answers and relief, thinking this was probably a gimmick. I'm glad I took a chance and placed the order. Thank you Christine Koth! ❤️
Penny W.

United States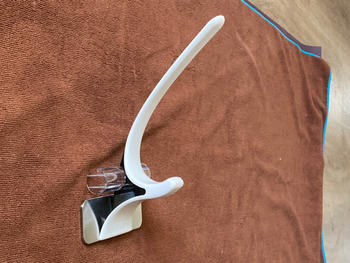 09/20/2020
Grateful
I'm grateful to have this product. It helps my SI joint dysfunction immensely, where injections weren't completely effective and never lasted long enough. When I don't use it for a few days, my body definitely reminds me that I need it. I have significantly less pain when I use the Hip Hook consistently.
Kathleen D.

United States
09/09/2020
I finally found relief!
My job has me sitting all day and I enjoy PC gaming which adds more hours to my sitting. I've tried many different tools, professional massage, chiropractor, stretching...you name it. This is the only tool that has worked to give me total relief! Thank you from the bottom of my heart! God Bless you!
Carmen D.

United States
03/07/2021
It's For The Kids
As a high school football and track coach, I noticed more athletes were getting hip flexor injuries. The prevailing thought amongst local coaches was that the athletes need more rest and less strenuous workouts. I started using the Hip Hook methodology and suddenly there were no more hip flexor injuries. I did not have to let up on the athletes, but just treat the origin of the problem.
tom I.

United States
03/09/2021
Hip Hook by Aletha
Hi Tom! Thank you so much for taking the time to leave a review and share with us how much the Hip Hook has been helping your athletes! We can't wait to see the continued success you have with your team now that they have been able to #FreetheHip! :)
12/13/2020
5 years of back pain
I've suffered from lower back pain for 5+ years. I practice Yoga, am a Blue Belt in Karate, an avid downhill Double Black Diamond skier, and a recreational cyclist. I've tried acupuncture, electric stim, massage therapy, muscle relaxants, and heat but nothing resolved the issue, until I found the HIP HOOK! Hip, hip hooray!
Shlomo K.

United States
09/21/2020
SI joint releif
I have begun to use the hip hook to resolve issues with SI joint and hip pain. This is a 12 year old injury, and when I released the right and left Iliapsoas areas, I immediately felt less pain in the hips and more mobility. There is more healing to do, but this hip hook has started that process. I am one person who had a diagnosis of a leg length difference that never made much sense to me, so after no improvement for the past decade using a lift, I quit it, creating a cascade of changes. This Hip Hook seems to be helping that process move orward.
Sarah L.

United States
01/21/2021
Years of chronic pain
I have had years of pain following multiple hamstring tears with the worst culprit being a tear from the insertion point at the Ischial Tuberosity. This was never addressed properly despite years of physical therapy and intense self work from myself into management and healing. Last year the chronic injury and hip dysfunction reached its maximal havoc, as the misalignment caused me to break my 9th, 10th and 11th ribs on my right side while I was articulating through my spine in cat cow. A new PT finally started targeting the front of the hips and releasing the psoas and illiacus. Many tears later as the spot was so sensitive and at first it could almost barely handle light touch, the pain subsided and I felt my first relief in almost 8 years. Unfortunately, covid Hit and I was uncomfortable going for more in person treatments, however I knew where I needed to turn my attention. I started playing with different tools around the house and even taught my husband how to release the psoas and illiacus but was not a long term plan for us. Enter hip hook to my life! My hip hook has been INSTRUMENTAL in not only managing my pain but also allowing me to reach a level in my body that I have not felt in my adult life. This has become an integral part of my body management routine and I couldn't be happier. Thank you!!!!!
Justine F.

United States
12/16/2020
It really works!
I have struggled with back, hip, knee and foot pain for years! I first purchased the book Tight Hip Twisted Core and quickly realized this was my issue. I ordered the Hip Hook and it has made a huge difference in lowering my pain and improving my mobility along with the additional suggestions included in the book. I highly recommend this product!
Sarah M.

United States
11/27/2020
I love it.
I've been dealing with hip problems for years. This product started appearing in my targeted ads months ago, but it wasn't until I told my PT that I felt like I had an abdominal muscle pulling me downward and he released my iliacus that I started looking at it seriously. I purchased it and it arrived on a day when I was having lots of pain from my iliacus and SI. The relief that I got IMMEDIATELY after finding the right spot was incredible. My SI pain went away, I didn't have any iliopsoas popping that night, and I pretty much had a great two days after that. My skin was a little sore after the first use, so I gave it a bit until I used it again, and I got the same result after using it the second time- immediate relief. I've since been able to use it once a day, every day, and I am having much less pain overall, my hip flexor is not nearly as tight, and I'm waking up with my pelvis more balanced and in need of less work in the mornings before I can get going. I have not been able to get it going on my "good" side, but I'm sure I will figure it out eventually. For people who are overweight too, take it from me- you can use this.
Michelle P.

United States
10/20/2020
Helpful but hard to use
I do feel looser and have less pain, but even though I'm usually good at figuring out physical things I cannot seem to do it right. It seems more effective at loosening my psoas, I basically gave up on my iliacus. Maybe a more effective video would help, the skinny professional trainer lady effortlessly lying in exactly the right spot the first time is not realistic. Show us where NOT to put it as well as where to put it. In the end, I've moved on to using it as an effective leveraging/pressure tool for my psoas which is constantly a bit tight due to some nerve damage on my left side. It does help for that. It's actually also pretty good at getting that area under my shoulder blade that's impossible to reach, too!
Nicole F.

United States
11/27/2020
Hip Hook by Aletha
Hi Nicole, That's great to hear that you are finding the Hip Hook helpful in releasing your psoas muscle. For the iliacus, perhaps you haven't found a spot yet that is super tight. Keep exploring! We encourage you to check out more of the videos on the Aletha YouTube channel (www.youtube.com/alethahealth). There is a lot of range along the ilium that you can explore to get at the iliacus muscle. Getting closer to the ilium and even playing around with how you can angle the tip of the Hip Hook along the contour of the iliac crest may make the difference that helps you get into the iliacus muscle more effectively. Please reach out to us at hello@alethasupport.com if you have any more questions. We'd love to help! Live with Ease, Team Aletha
09/22/2020
It does work!
I've had this tool for 10 days and I am already noticing a difference. My muscles do feel like they are loosening up and pain is slowly being alleviated. I have a low back issue (disc is reversed in my spine) which causes low back pain, hip pain and recently knee pain. Much of the hip and knee pain is from an excessively tight psoas muscle, which is challenging to stretch and loosen yourself. The hip hook does work to get into this muscle. It's not an overnight correction by any means but there is rarely a quick fix. I'm keeping this product and plan to share with others so they can try it for themselves.
Melissa B.

United States
09/22/2020
Hard to use
It definitely gets in to the hard to get places. But it's excruciating. I've tried using a towel to dull the intensity but it doesn't help much.
Laura J.

United States
09/24/2020
Hip Hook by Aletha
Hi Laura, When using the Hip Hook for the first time, it might feel quite intense. This could be from holding lots of tension in your muscles, which might not have ever been pressed on in this way. This feeling can get better over time. Some different ways you can try to reduce the pressure of the Hip Hook include: - Placing a small towel over the tip to cushion it more - Bring the leg on the working side up into a mountain climber position - Lay your upper body down flat on the ground (not being propped up on your elbows) - Reduce how forcefully you press down on the handle - Limit the amount of time spent using the Hip Hook consecutively in one session - Try the Hip Hook while standing, using the corner of a wall to support the tool We'd also like to encourage you to visit the Aletha YouTube channel and explore our videos, as you may find these helpful to help improve your experience and enhance the results you can achieve. Live with Ease, Team Aletha
09/21/2020
What a relief
There is not a PT group where I live that can do the rehab required to relieve my issue. It is beyond fabulous that I can administer my own PT and get the relief I need for the pain.
Jennifer R.

United States
09/20/2020
Helpful tool!
Relieving lower back pain and tightness, SI joint hyper mobility, and twisted right hip
Lydia B.

United States
09/20/2020
Home use tool for PT
Allowed me to have a tool at home to use in addition to stretching, strengthening outside of my physical therapy with a specialist.
Christine G.

United States
09/20/2020
Sweet relief is finally here...
The Hip Hook first proved that the source of my knee pain and foot numbness was linked to the iliacus. It also was the perfect way to begin opening up that muscle that was neglected for so long. The initial results happened fast. Now it's just a matter of maintenance. Crazy to think this little tool was all I needed all a long.
Corey M.

United States