This ball is the perfect size (4 inches) and density to provide effective release of the general area around the iliacus and psoas muscles. A perfect warm-up for the Hip Hook. Solve mysterious pain in your lower back, hips, tailbone, knees, and feet, by softening the tension in your psoas muscle with prolonged and gentle pressure.
REDUCE PAIN. Relieve aches and pain and reduce inflammation and strain on soft tissue and release trigger points.
INCREASE MOBILITY and improve range of motion in your lower back, hips, feet, and knees.
EASY TO USE - Simply lean or lay on the ball and use your own body weight and gravity to relieve tension.
FASTER RECOVERY: Increase circulation to tight areas by using the ball for 2 minutes a day.
TRAVEL READY: 4 inches and 1 oz. The ball is perfect for the gym, hotel, home, or office. Get fast and effective myofascial release in your lower back, hips, knees, ankles, tailbone, and feet.

International customers, please note: We don't collect VAT for purchases to our international customers, so you will have to pay it when you collect the product from the shipping company or post office.
Customer Reviews
Write a Review
Ask a Question
Filter Reviews:
ball
pain
tension
Christine
muscles
Hip Hook
body
floor
motion
something
09/11/2020
Your product made a Navy Chief cry like a baby with gratitude and joy.
My name is Tony Woody and I served for 22 years in the US Navy. I was a flight engineer on the P3 Orion aircraft for over 20 years and logged over 10K flight hours during my military flying career. That's a lot of sitting causing stress on the core muscles and body while wearing a 35lbs life preserver apparatus at all times. The extensive missions and training required to keep that job for that long caused a lot of spinal damage and muscular damage long before the car wreck. After the wreck all of my core muscles went into simultaneous global non-stop muscle dystonia for three years. I could barely walk, could not stand up straight and lost a lot of muscle mass because I couldn't exercise properly. To be open and honest I found some other help last December when I started taking a Chinese Medicine formula that finally started healing my muscle dystonia and my muscles began to relax little by little each day. But, even still; my legs, knees, shins and feet never stopped hurting, and my neck and shoulders and back were still under tension and stress, just not as extreme as it was before the Chinese Medicine. Also even with that medicine slowly working I had not stood up straight and tall for over three years, until a few weeks ago when I got my Hip Hook in the mail. I am 63 years old and rated by VA as 100% permanently and totally disabled since 2004. I have lived with severe chronic pain throughout my body for decades due to my numerous service connected injuries. On top of that, severe global muscle dystonia manifested and set in throughout my body after being in a bad car wreck three years ago. Pile that up on top of my military injuries and we're talking real pain here. I am determined to manage my pain without taking opioids or any other medicines. I prefer a totally holistic approach to all of my pain management modalities because I went down that pain pill route years ago and refuse to do that again. That is part of what attracted me to the Hip Hook in the first place as an alternative to taking pills again. While waiting for my Hip Hook to arrive in the mail I watched the "How to" video several times and already knew what to do. So when it arrived in the mail I couldn't wait to try it. I ripped the box open as fast as I could and immediately dropped to the floor and went to work with my new Hip Hook. At first it hurt like ****. But I expected that, so I was mentally ready to push through the initial pain and let the HH melt into my body a tiny bit at a time until I could work the handle around in just the right spot to palpate deeper and more accurately. The ability to have pinpoint accuracy to work those muscles whenever I need to is absolutely invaluable to me. The only time I ever got any short term relief was after massage therapy digging deep into my core muscles. That is something I cannot do on my own until now with my new Hip Hook. After I worked both sides and spent about 15 to 20 minutes on the floor doing that, I stretched out a bit while still lying on the floor and then stood up. In that moment I suddenly realized, for the first time in over three years; that my feet, legs, knees, back, shoulders and neck had all fully extended SMOOTHLY and in concert with one another. When that happened I got so excited I tried to call your company number to tell you about it, but it was after hours so I had to leave a voice message. I got so emotional on the phone all I could do was say how deeply grateful I am and I started crying and had to hang up. I simply could not talk anymore because my Heart was filled up and overflowing with gratitude so deep it overwhelmed me emotionally and I was dumbfounded by it. When I stood up the first time after using my Hip Hook it was like a symphony of fluid motion reminiscent of my younger stronger days. It was so easy to stand up straight it literally shocked me. I expected to have pain while using my Hip Hook. I was not ready for the emotional reaction at all. I was definitely NOT expecting the organic emotional spontaneous reaction that poured out of my Heart when I realized fully what just happened. I never saw that coming and I cried like a baby. Navy Chief's don't usually cry like babies by the way, so congratulations Christine for doing that. Let me explain. After I called your company I was home alone and just sat in my chair for the next 15 or 20 minutes crying like a baby out of genuine joy and gratitude, because I now knew I had a way to manage all the core reasons for most of my CHRONIC SEVERE pain and I will never be tortured again. Also just as importantly I knew I could use my Hip Hook whenever I wished now which brought me a profound sense of freedom and joy from fear of severe pain I cannot put into words. I'm sorry if my voice mail sounded a bit odd, but I wanted you to know you made a Navy Chief cry like a baby with your awesome product. I thank God I found the Hip Hook. I use it twice a day and always before bed and I now sleep a lot be
Bobby W.

United States
09/19/2020
I use this everyday!
It's helped me with my lower back pain so much.
Kevin C.

United States
09/21/2020
Hip replacement
I am 75 yrs. old and will have hip replacement surgery near the end of the tear. When. I use this ball to relieve tightness and pain in the groin area from the arthritic hip it allows me to play golf or walk or bike.
Robert C.

United States
05/19/2021
Hits the Spot(s)
Certainly helps to reach the iliacpsoas without resorting to a trained massage therapist digging into your lower intestines. So far, I've actually had a bit more luck with the ball than the Hip Hook, but I anticipate that the Hook will help focus on very specific adhesions.
Michael K.

United States
03/26/2021
Do it All
Released tension in my back an flattened my stomach.
Victor M.

United States
02/11/2021
Ball of Joy
I purchased the hip flexor release ball when I purchased Christine's book, Tight Hip Twisted Core. The ball has been very beneficial in myofascial release.
Abby L.

United States
09/23/2020
IT'S PERFECT!
Perfect size and perfectly firm. Great to use in the derrière area as well as putting it on the wall for "massaging" the scapula area. THANKS, ALETHA!
Kathy H.

United States
09/24/2020
Hip Hook by Aletha
Hi Kathy, Thanks so much for the review! We are so happy to hear that you are loving your Hip Flexor Release Ball and discovering some other good spots to use it. Live with Ease, Team Aletha
09/21/2020
Nothing like it!
there is nothing on the market that does was the hip hook does and Christine has done a fabulous job making it simple to use and providing the right direction maximizing it's impact.
Taylor W.

United States
09/19/2020
I love this little guy!
This little guy hits spots that the foam roller can't get. The pressure and massage like effect I get from using the ball greatly reduces the tension and pain from my lower back through my gluteal muscles.
Kyle W.

United States
09/08/2020
Solved 10 years of chronic back pain
I have suffered for over 10 years with chronic lower back, glutes, and upper back pain. Additionally, I have suffered for 5 years from a cramp in my hip - following bi-latteral hip replacement - anytime I try to walk more that a block or two. First I read Christine's Book - Tight hip, Twisted Core, then bought the Hip Flexor Ball. In the beginning, my glutes, hips, and back were so tight, it took me over an hours to hit all the trigger points with the ball. I am now two months into the use of the ball, and virtually ALL my pain is gone. I now have to search to find any trigger points as I maintain my daily procedure for releasing the tight muscles. I am now walking 30 minutes daily, which is something I have not been able to do since my hip replacement. Used to be I could only stand for 15 minutes before needing to sit to relieve my back. That's gone now! This has give me a new life.
Jeff P.

United States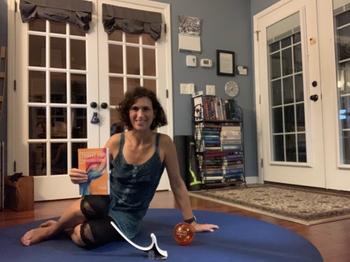 09/04/2020
Magical
It works so quickly! As soon a I finish I have a nice lifted low back curve, my thighs touch the floor and I no longer feel weighted on my sacrum. It immediately puts me into ideal alignment. I have a more fluid range of motion when bending forward as well. I'm really amazed by how effective it is and how different I feel afterward. I feel like a whole bunch of tension just left my body that I never even knew I had. This is incredible!
Michelle K.

United States